Your control panel holds three types of pages and settings:
User-Level: These are pages and settings that only apply to the current user being logged in.
Business-Level: These are pages and settings that only apply to the current business a user is logged into.
Account-Level: These pages and settings are only available to account owners and apply to the entire Xodo Sign account. 
User-Level
User settings
These settings primarily used to enable individual users to define in detail in which occasions they would like to be notified automatically. These options cover both the sender perspective and the signer perspective
Signatures & Initials
The Signatures and Initials pages contain all saved signatures and initials. Single signatures or initials can be deleted or made default using the righthand button menu.
💡 Default signature/initials
Your default signature/initials will be the first one to be suggested whenever you sign a document.
⚠️ 10 signatures per user
Please note that each user can store a maximum of 10 signatures and 10 initials.
Business Level
Dashboard
The Dashboard is the page you will be redirected to when logging in to your account or registering as a new user. The Dashboard page consists of several parts containing different information about your account:
Documents Summary: At the top left of your Dashboard you will find a summary listing the number of documents per status. This summary includes documents awaiting your signature, in process, and completed documents.

Recent Activity: At the top right of your Dashboard there is a small activity log showing the latest activities in your Xodo Sign business.
Default Signature/Initials: On the left side of your center account summary you will see your default signature and initials. Click on either of them in order to navigate to the respective list.
Documents sent this month: In the very middle of your Dashboard, you will see a graph outlining how many documents have already been sent this month.
Account info: On the right side of your center account summary you will see useful information about your account, business and API access.
Most used templates: At the bottom left of your Dashboard your most used templates will be displayed. Click on a template in order to use it. 
Recent drafts: At the bottom right of your Dashboard a list of recent drafts will be shown. Click on one in order to open it
Documents, Templates
The Documents/Templates page holds all of the documents/templates available to you and in your business.
Status Tabs: You can browse items by status using the tabs at the top right of the table.
Client Selector: The client selector on its left enables you to filter items by client.
Filter By: In some tabs, this menu enables you to filter by status/type.
Search: By entering text into the search box you can search for individual items in the current tab.
Buttons: Each entry comes with an individual righthand button menu.
Bulk Actions: In some tabs, you will be able to perform bulk actions on selected items (e.g. Archive, Delete)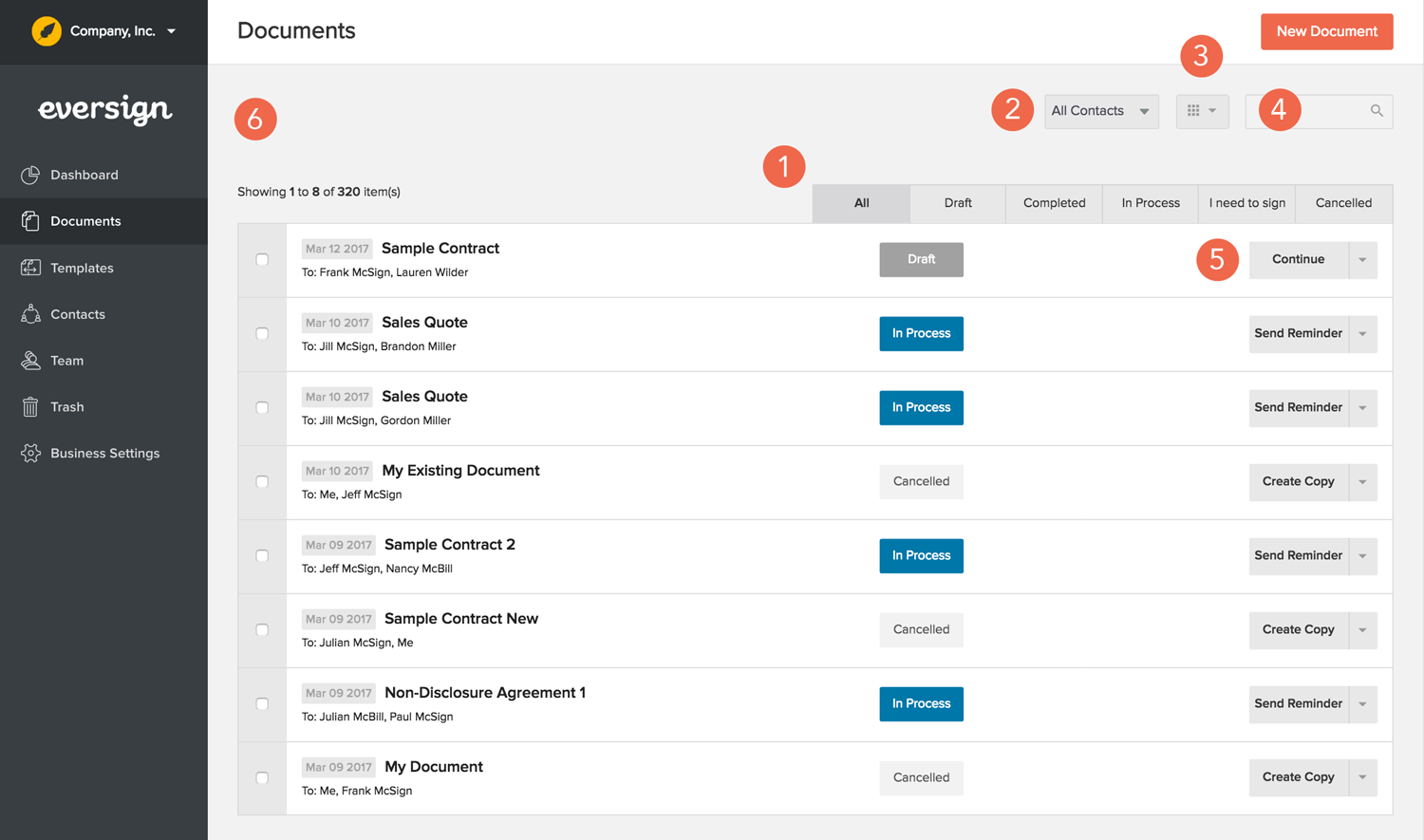 Contacts
The Contacts page holds all of the contacts available to you and in your business. For more information about managing contacts, please navigate to the Manage Contacts section.
Team
The Team page holds all of the team members in your business. For more information about managing your team, please navigate to the Business & Team section.
Trash
Your Trash contains deleted documents and templates. These items can be deleted permanently or recovered using the bulk action buttons the top left (1) and the righthand button menu next to each trashed item (2).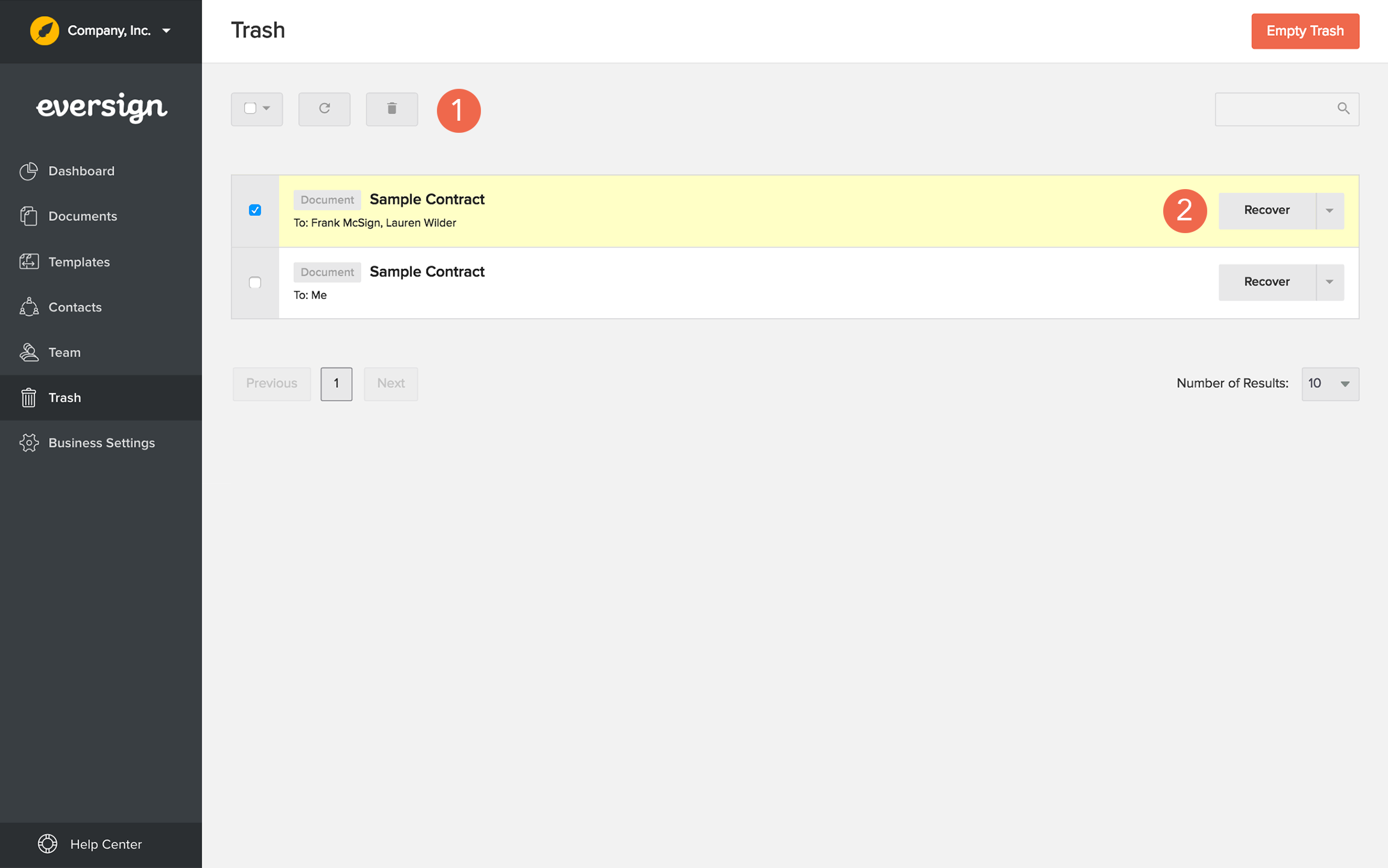 Business Settings
The Business Settings page contains all options and settings that can be specified in order to perfectly adjust Xodo Sign to your business workflow. The following settings are available:
Business Name: Your business name can be changed directly on the settings page. Click "Save Changes" to apply your changes.

General Preferences: These settings include default settings for documents, date & time preferences, document management & export settings.

Signing Preferences: These settings are all about the signing process and cover topics like post-sign and post-decline redirects, allowed signature types (type, draw and upload) and other signer preferences.

Expiration & Reminders: On this page you will be able to specify default document expiration times and auto-reminders.

Integrations: On this page you will be able to activate and deactivate third-party cloud storage integrations.

Branding: On these two pages you will be able to upload custom logos and adjust custom colors for your business
Account-Level
Account
Located within the top left dropdown menu, this page will enable you to edit your account details, such as your log-in email address, account/billing address and company data. At the bottom of this page you will find a way to delete your Xodo Sign account.
⚠️ 
Delete Account
Clicking the "Cancel Account" button will delete your entire Xodo Sign account, including all of your businesses. Please do not confuse this action with the Delete Business feature.
Subscription
The Subscription page will show a summary of your Xodo Sign subscription and list all available Xodo Sign subscription plans. Clicking "Upgrade" or "Downgrade" below a subscription plan will upgrade or downgrade your subscription accordingly.
Billing
On the Billing page, you will be able to view an account summary and change your payment method(s) currently on file, as well as download past invoices for your Xodo Sign subscription. If you have an open invoice on your account, there will be a red "Pay" button located next to the respective invoice.
Developer
The Developer page will give a brief summary of your API usage and will show your API access key. You can reset your API access key by clicking the "Reset Access Key" button next to it.