The Xodo Sign API allows developers to integrate and automate e-signatures with a lot of flexibility into their own company's code, which can lead to massive efficiencies. Things that used to take hours can be accomplished in minutes once the API has been set up.
The API allows you to take it one step further and either completely automate the workflow or integrate it into your website or CRM. Essentially, the Xodo Sign API allows you to remove the bottleneck that comes with creating and sending out documents for e-signature manually.
If you plan on utilizing our API, it is good to know that we are offering separate pricing plans for more extensive API usage!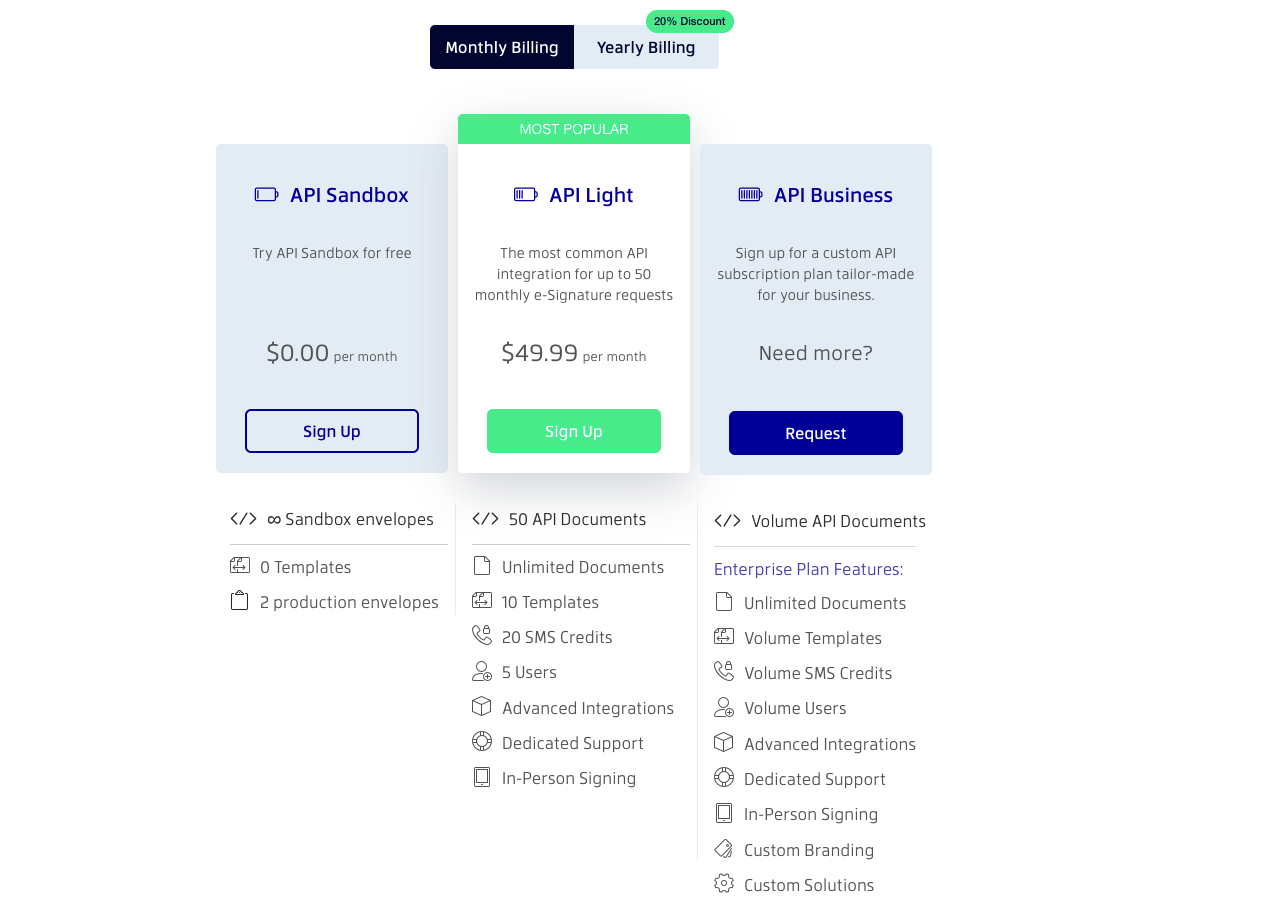 Compared to our regular plans, the API Plans come with a higher quota of allowed API requests. This makes it convenient for individuals or companies who want to invest their time and money into building their API workflows and automating their tasks. 
The API subscription plans start at $49.99 for an API Light plan, which includes 50 monthly API requests. Other than that, a number of other features are included as well, such as 10 templates, 20 SMS credits, and 5 user seats. Additionally, if your estimated usage exceeds the API Light plan, our Sales team can set up a custom API Business solution for you.
You can, of course, always enable the Overage Billing for our regular plans if more API requests are needed; however, API plans can really help you maximize your API usage, allowing you to spend less and do more. 
Here are some of the top benefits you get using the Xodo Sign API with an API Plan subscription:
Cost reduction is effective due to reducing the time and effort required to create in-house APIs. The amount of money you spend upfront and over the years won't compare to what you'd pay for the initial and ongoing costs of owning your own API.
With an API plan, you avoid the risk of reaching your request quota and slowing down your workflow.
Bulk Sending becomes a super-quick and easy process. 
Experience better customer satisfaction thanks to being able to deliver work on time.
Experience the ease of using your CRM to pre-populate and send contracts.
Those are just some of the benefits listed, and there is definitely a bigger picture of using an e-signature API to grow your business. We are happy to be able to offer you subscription plans specially adapted to your needs. Look no more and start using the Xodo Sign API today!